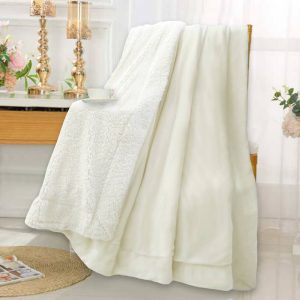 Product parameter
130x160cm
160x220cm
220x240cm
Material: Wool
Weight: 400g
Color: Green, Gray, White, etc.
Features
Thick woolen blanket, fluffy and soft texture, comfortable touch, skin-friendly and breathable. After high temperature pre-shrinking treatment, the fabric feels good, not easy to deform, and easy to manage. Active and environmentally friendly printing and dyeing, rich in colors, high color fastness, and not easy to fade. The front is made of wool and the back is lamb, which has good warmth retention. Reinforced edging, neat routing, not easy to disconnect, durable.
Washing reminder
After the blanket is produced, some wool will fall on it, so you should wash it by hand for the first time. After several times, the floating wool will float on the water. When the floating hair is almost floating, machine wash and spin dry. The drying time should not be too long, because too much friction will damage the fabric.